Over 400+ designs in our website design library
Preview hundreds of wedding website templates and sort through options based on your wedding color palette, style and invitation design.
Browse designs now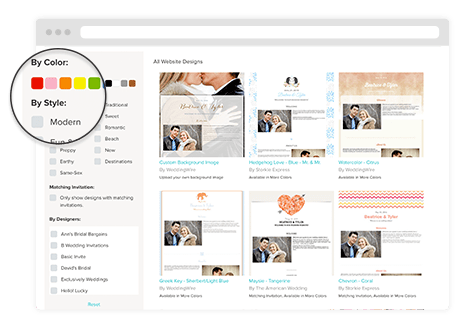 Custom photo backdrop
Create a perfectly personalized website by choosing our newest design that allows you to feature your engagement photo as a backdrop!
Preview this design
Select this desig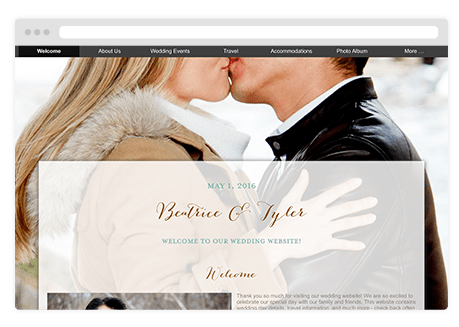 Mobile & tablet friendly website layout
Our new stacked design for wedding websites displays perfectly on mobile and tablet devices, making it a perfect way to share wedding details with your guests on-the-go.
Browse mobile & tablet friendly designs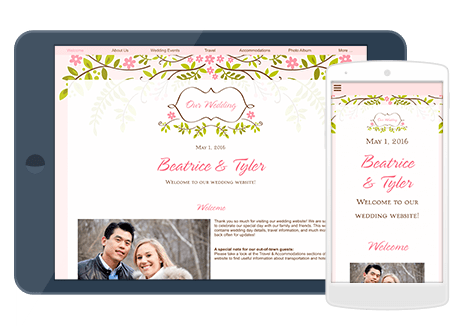 Capture all your guests' photos during your wedding events!
Share our new WedSocial app with friends and family so they can view all your event details and post photos instantly from their mobile device!
Learn more about the WedSocial app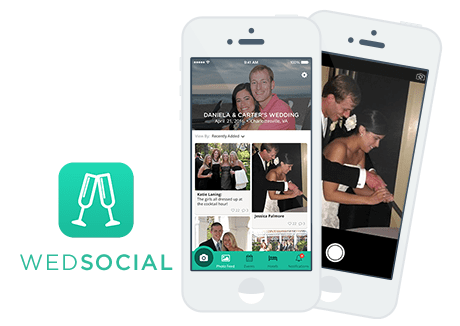 Free wedding website widgets
Our wedding websites include widgets to help your guests RSVP, view and access your registries, search for travel rates and book hotels!
Sign up now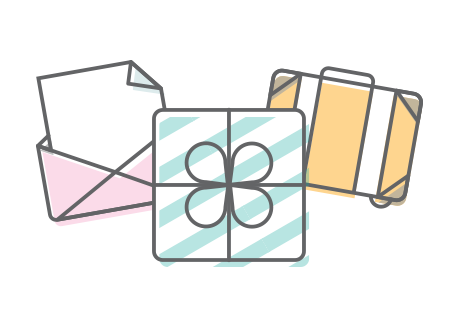 More powerful wedding website editor
Personalize your wedding website easily with our sleek, new website editor. Create your own personal website address and interact with your guests before, during, and after the wedding with a social guestbook.
Sign up to build your FREE wedding website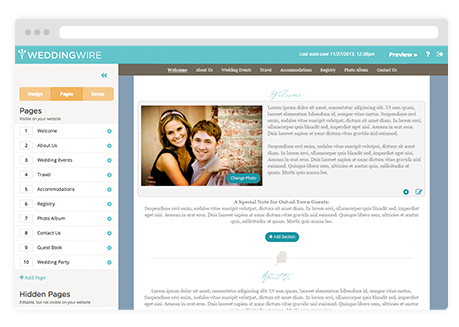 Wedding websites turn the task of wedding planning from a formidable challenge into an interactive piece of cake! With free wedding websites from wedding.easterneye.biz, the entire process has been laid out for you... all you need to do is add your dreams and watch your vision come to life. Personal wedding websites allow your friends and family to stay informed while alleviating your stress and allowing you to enjoy the ride. To begin, simply click "Create your website now!" Wedding websites nearly create themselves. Every step of the way you will be guided through with simple questions and easy to follow instructions. Your Wedding website dashboard will become a self sustaining personal assistant, automatically providing you with a list of helpful reminders such as tasks, timelines, upcoming events and more. Choose from a collection of designer templates to give your wedding website a look and feel that perfectly fits your own personal theme. Easily add tools to help your guests book flights, check the weather, get directions and more. Wedding websites allow you to find and communicate with your vendors, keep a checklist, keep track of your budget and guests, make seating arrangements, create a timeline, keep a binder, photos and an inspiration board. Wedding websites are simply the most incredible thing to happen to weddings since you decided to get married! Are there friends and family who will not be able to attend due to distance, budget restrictions or any other reason at all? With wedding websites everyone can share fun and how much you let them know is completely up to you! Free wedding websites from wedding.easterneye.biz, are truly a miracle of modern technology. Register for your free wedding website today and let us do the heavy lifting. After years of experience gained from countless weddings, we have created these tools because we have truly seen it all. What we haven't seen is how you are going to make it uniquely yours... and that is what we are looking forward to most of all. Wedding websites, just one more way Wedding Wire connects you, with everything you could wish for!